The new version 1.2., released yesterday, brings significant improvements to our Google Analytics features. Specifically, it allows you to select and associate a Google Analytics account with a Google Search Console property and also select a view to work with.
Whenever you click on the Get Analytics data button and there is no single corresponding Google Analytics account/view, you will be presented with a dialog box that will allow you to chose a specific Google Analytics account and a view.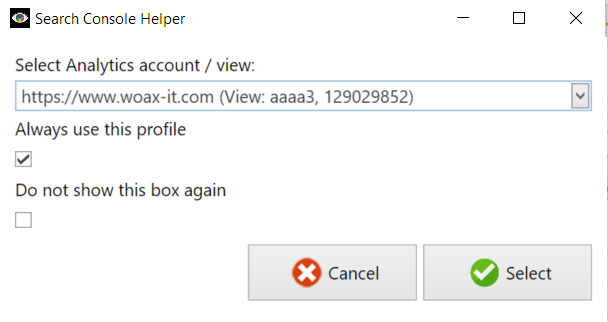 You will also be able to store this association for later use, simply by keeping the Always use this profile option checked.
Merry Xmas!
As a thank you for your trust, we built a special Easter egg (or, should we say, Xmas egg) into the 1.2. version: upon upgrading, your counter will be automatically reset to 29 days. This means, we are adding an extra month to your evaluation period!
This applies to all installations, regardless of whether you had 29 or 0 days remaining.
Merry Christmas! Enjoy your Holidays and enjoy Search Console Helper!